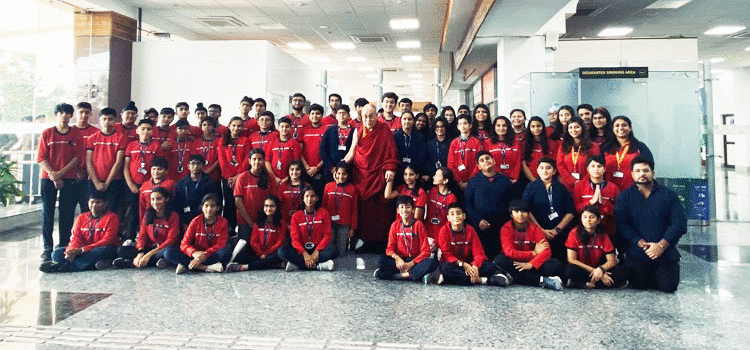 Annual Class Trip: Mcleodganj, KS 3-5 Year (6-12)
It is our constant endeavor to provide our students with rich learning experiences. This year, we have organized annual camps for our Key stage 3-5 (Year 6-12) students to Mcleodganj wherein they will attend the 8th edition of Dharamshala International Film Festival at the Tibetan Centre for Performing Arts, in continuation with our World Study Theme for the year- "World Literature". Over the past seven editions, DIFF has established itself as a world-class film festival where filmmakers, film lovers, travelers and explorers all come together to interact in an intimate, creative and informal way. Each year the festival draws around 7,000 film lovers from across India. Over a dozen Indian and international filmmakers attend, introducing their films and taking part in question-and-answer sessions, panel discussions and masterclasses. DIFF has become a unique space for multicultural exchange, creative reflection and discussion.

As mentioned in our previous communication, it is mandatory for every student to be on their class trip. These trips allow for a special bonding between their peers and teachers, who see them in a completely different light. This will also be an opportunity for our students from New Friends Colony and Gurugram to know each other and work together on projects. The student staff ratio will be 10:1.
Travel by: Train and Bus (a/c)
Day: Thursday to Sunday
Date: November 7-10, 2019
Name of Hotel: Citrus Hôtel, McLeodganj
Dharamshala International Film Festival (Screenings, Talks, Q&A Sessions, Workshops, Masterclasses
Community Service project (lake clean up drive, donation drive at local school, waste warrior drive) Trek/Hike up to Bhagsu -nath water falls
Meet the Tibetan Refugees to learn about their struggles and migration to India
Visit Tibetan Temple, library.
Visit to Tibetan school
Experience the traditional Tibetan arts and craft through workshops at Norbulingka Institute
Trip Annual Class Trip
Day Thursday to Sunday
Date November 7-10, 2019
Venue McLeodganj
PHOTO GALLERY