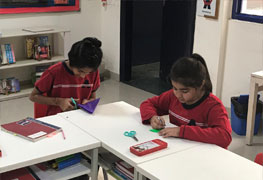 CAMBRIDGE PRIMARY
The Primary Curriculum has its foundation in the National Curriculum of England and Wales as well as the Cambridge Primary Curriculum. This has been combined with learning and experiences that give the students an insight into the rich culture of India.

The curriculum includes English, Modern Foreign Languages (French, Spanish and Hindi), Math and ICT. In addition, the curriculum is fleshed out with exposure to art, music, drama and sports.

PSHE (Personal, Social Health Education) and Spiritual Education underpins the curriculum and is based on three core themes that include, Health and Wellbeing, Relationships and Living in the Wider World. The Primary Years are divided into EYFS, Key Stage 1 and 2

THE CURRICULUM PROMOTES

FOUR ASPECTS OF ACHIEVEMENT

The ability to express oneself in oral and written form and, where appropriate, to remember facts accurately and use them constructively.

The development of personal and social skills, such as the ability to work with others and take on a leadership role within a group.

The ability to apply knowledge through practical tasks, problem solving, investigation skills, and the use of oral and written language.

The development of confidence that comes through self-discipline and the commitment to learn and persevere even when tasks seem difficult.

THE CURRICULUM AIMS TO:

Develop each child's potential to the full.

Encourage a love of learning through the development of skills they will use all their lives.
English
Hindi
Maths
Science
Humanities
Art
Music
Physical Education

English
Hindi
Maths
Science
Humanities
Art
Music
Physical Education

English
Hindi
French
Maths
Science
ICT
Humanities
Art
Music
Physical Education

English
Hindi
French
Maths
Science
ICT
Humanities
Art
Music
Physical Education

English
Hindi
French
Maths
Science
IT
Humanities
Art
Drama
Music
Physical Education